What problems can disposable pet urine pads solve for you?
1. Pets urinate and defecate anywhere at home and in the car.
Disposable pet urine pad good absorption ability, can easily absorb pet urine clean, urine pad under the PE film can be completely isolated from water, to bring your home and car clean.
2. Pet urine is very unpleasant and smells bad.
Disposable bamboo charcoal pet pads have alpine bamboo charcoal molecules / SAP, which can absorb the odor of pet urine, thus making the air fresh.
3. urine pads to be cleaned, it is very time and energy consuming.
Disposable pet pads are cheap, one pad can absorb 300-1000ML of urine, enough for you to use for more than two days, the material of the pad belongs to the environmental protection material, so you can use it up and throw it in the trash without worrying about polluting the environment.
We have two disposable pads that will help you out
Urinal pad six layers of material
• Hydrophilic nonwovens
• Absorbent paper
• Wood pulp composite core
• Deodorant
• Absorbent paper
• PE film
We support custom size, custom color, custom material, custom packaging。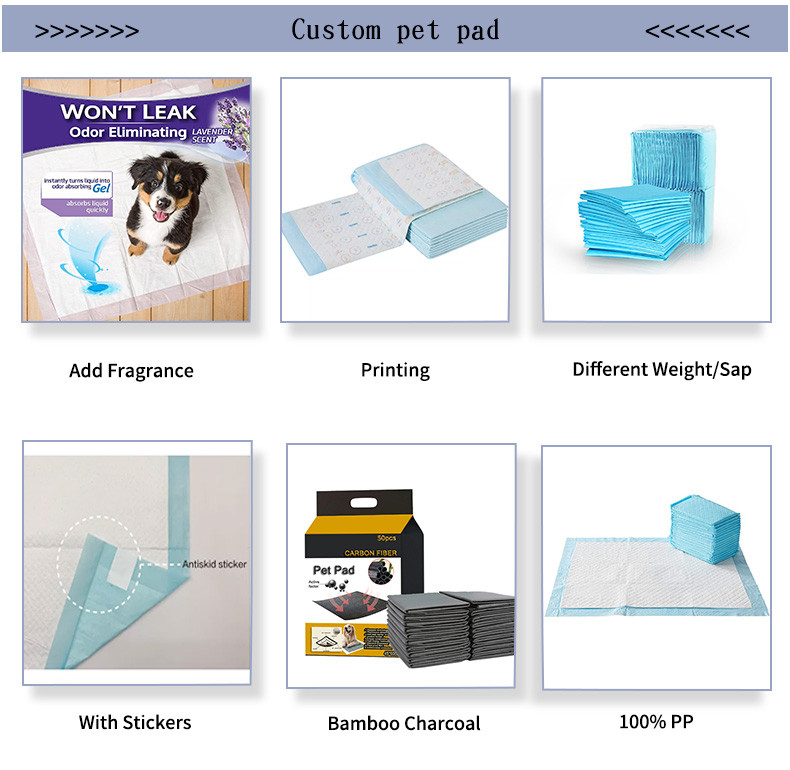 Our pee pads can add scent to attract pets, or custom printed pet pads, custom material to add more SAP to absorb more urine, custom four corner stickers to fix the pee pads.
We can customize packaging: transparent bags + custom stickers, colorful plastic bags, colorful boxes
Feel free to contact us for custom requests!
At our pet mat factory, we offer both disposable and reusable options to meet the needs of all pet owners. Our disposable pet mats are absorbent and convenient, while our reusable mats are eco-friendly and durable. Contact us today to learn more about our pet mat options and to place an order.
---
Post time: Apr-21-2023